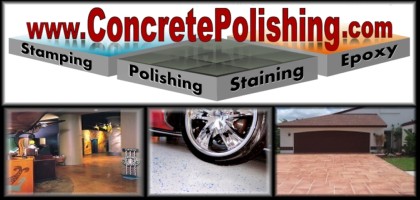 Jim or Chris Paisley
Sales & Service
info@FlooringMachines.com
Maybe you just want to find a pro to handle your concrete floor polishing and grinding project; that's fine, we suggest you check out
Concrete Polishing .com
and find someone in their contractor section to give you a free estimate.
A beautifully polished concrete floor is a thing to behold, but projects large and small all have different requirements and we're here to satisfy your needs. Concrete polishing machines and equipment all fall under the same category, but each hold a different function in transforming dull into lustrous. Below we've offered some information about the types of machines used in the concrete polishing and finishing process. Please feel free to contact us for more information or to answer any questions that you may have.
Polishing and Grinding Equipment
The concrete floor polishing machine is the main attraction, and covers the main functions of this entire process. These polishing equipment have a range of size and heaviness. The greater the weight of the machine, the greater friction it will achieve. This, along with the quality of the primary polishing head and abrasives will dictate the level of polish that your machine creates. Most machines are fitted with a planetary drive system. These have a larger polishing disc fitted with three to four smaller discs that contain the abrasives that do the actual polishing of the flooring.
Abrasives
You will need both coarse and fine abrasives for any concrete polishing job. Diamond segmented abrasives are available in varying grit sizes, so that you can adjust to the condition of the flooring and polish level. The coarser abrasives (which have lower grit size numbers) are bonded in metal, and are used to create a preliminary grinding surface. The finer abrasives (which have higher grit size numbers) are bonded in resin, and are used for the final polishing, after the preparatory coarser abrasives have been used.
Handheld Polishing Machine
Though the wider diameter polishing machine is what covers the largest surface area, there are hard-to-reach spaces and edges that can not be handled by these devices. A handheld polisher, then, is used for small areas and edging so that you can cover every inch of your work space efficiently.
Dust Collectors & Vacuum Systems
During the process of grinding, dust will be created. Many polishing machines will have dust collection equipment incorporated into the technology. For large projects and easier execution of the job, however, there are external dust collection devices available in different sizes for all of your grinding and polishing needs.
Fillers
Prior to polishing, it is important that any serious cracks or damages are repaired. Repair filler that works well for concrete flooring is generally made with epoxy or another material that becomes rigid when dried. Make sure repair filling is level with flooring to create a smooth finished surface and ease the polishing process.
Floor Treatments and Finishes
There are a variety of different treatments that can be applied both during and after the polishing process to increase the effectiveness of polishing or protect it from future wear. Penetrating hardeners are used during the polishing process, between coarse and fine grinding, to create a more dense surface, increasing the efficiency of the finish. These, as well as stain prevention treatments reduce the absorbency of the concrete, and protect it from future damage. Along with protective treatments, decorative treatments can be applied to polished concrete as well, including stains and dyes, for color enhancement as well as shine.